In My Vobyos - Ediva Zanker
'IN MY VOBYOS' CELEBRATES WOMEN WHO LIVE OUR MOTTO, OWN YOUR FIGHT
EDIVA ZANKER

"Boxing helps you break free from that box of what and who you're supposed to be."
"I'm a boxer. I'm an entrepreneur. I opened
GRIT BXNG
located in Union Square, NYC which is a 5,000 square foot boutique studio that incorporates boxing, treads and weights all in one 50-minute class—we are also the only studio to also have a
full liquor bar."
YOU STARTED BOXING IN COLLEGE. HOW AND WHY DID YOU GET INTO IT? 
"I was taking a class in school and the head coach was in my class. He asked me to come try out boxing for the club team. I walked into practice on the first day and I was the only girl. I wasn't sure I was going to go back the following week, especially when I knew I was going to be the only girl moving forward. But I got addicted to that feeling of hitting the bag for the very first time. It was undeniably the best feeling in the entire world. I couldn't get enough. So, I kept going and going and going until I was able to recruit more girls to the sport. Then my senior year I competed in it. I was one of three females to first start competing in Nationals at Syracuse. It was an exciting moment in my life."


HOW WOULD YOU DESCRIBE THE FEELING OF GETTING HIT BY AN OPPONENT?
"Humbling, to say the least. In life, sometimes we think we're untouchable. That nothing can be taken away from us or change or rock us. But then getting punched is a wake up call that, no, unfortunately everything is not that easy. But the more important lesson isn't what happens when you get punched, but how you react to it. In boxing you can always throw a counterpunch, block, or move away when you get hit. The same thing happens in life. No matter what it throws at you, you can't give up, you can't drop your hands, you can't stop moving."
"Getting punched is a wake up call that, no, unfortunately everything is not that easy."

 
HOW HAS BOXING BENEFITED YOUR LIFE OUTSIDE OF THE GYM?
"Just last week my trainer said something interesting to me. He said, "commit to your punch." That was interesting for him to say because in the past, I've struggled with making decisions. Whether it's a small decision like ordering sushi for dinner or Thai food, or big business decisions, like bringing XYZ person on the team, it's just been something I used to have a huge challenge with. I always worried I was making the wrong decision so instead of deciding, I would become paralyzed with fear. In boxing, you don't have enough time to second guess your decision. It forces you to make a decision quickly, with vigor, and certainty. Boxing has helped me become more confident in my decisions. And the same thing goes for both boxing and life—if you make a wrong decision in a match, you can always counter your opponent, pivot and get out of the way or block. If you make the wrong decision in life, there are always ways to figure it out in the end and still come out a champion."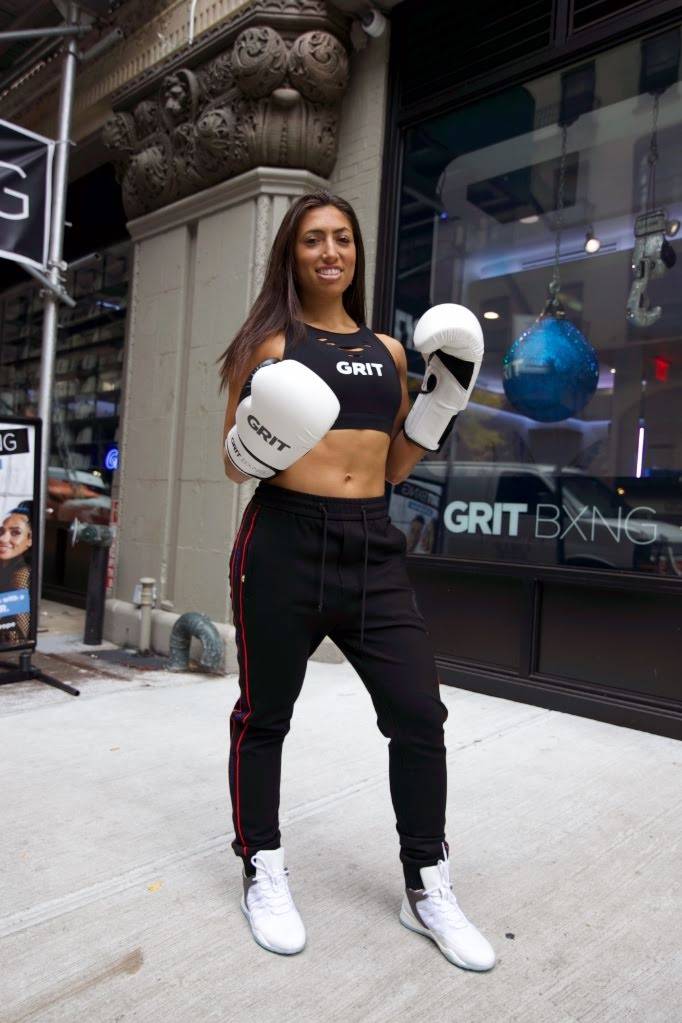 Photography: @cerdafye
HOW DID YOU COME UP WITH THE IDEA TO OPEN A BOXING GYM AND WHAT MAKES GRIT UNIQUE? 
"When I first moved to NYC after college, I was taking every boutique fitness studio in NYC. I found that it was difficult to meet people. I wanted to create a space where you can take a kick ass killer 50-minute workout, and then have an actual physical space where you can connect with other like-minded individuals from class, or your trainers. That's where the idea for the bar came in. GRIT is unique from the moment you walk in. The lights, the sound, the vibe. I don't think of it as a
gym, it's much more of an experience."



DO YOU HAVE ANY INSPIRING STORIES FROM YOUR MEMBERS AT GRIT?
"Gosh, every single person I meet at GRIT is inspiring. We have a few clients who have already lost close to 30 pounds since opening. Women going through terrible breakups, job losses, or abuse. They all come to GRIT as an escape. It's a safe space for them to be who they are. And punching relieves their stress and makes them happy. GRIT reminds them that they are not alone, and that as females especially we are much more powerful in numbers than we are on our own."


VOBYO CELEBRATES WOMEN WHO ARE TRAILBLAZING THEIR OWN VERSIONS OF STRENGTH & FEMININITY. WHAT DOES THIS MEAN TO YOU?
"I think oftentimes we need to pigeonhole ourselves into this box of what it means to be a woman. But boxing helps you break free from that box of what and who you're supposed to be. Traditionally maybe women are not thought of as being as strong as men. But when I hit the bag I'm equal. It's also cool to know that I can be strong, but I can also be sexy. I can rip so hard on a boxing bag that the chains start rattling, but I can also put on mascara and dance at the club all in one night. Just because you're strong doesn't mean you can't be feminine. It goes both ways."


HOW DO YOU LIKE TO STYLE YOUR VOBYOS?
"I have to say Vobyos are by far the best boxing shoe I've ever tried. They're stylish, sexy, sophisticated and hot. Everything I always hope to stand for, ha! But since GRIT is all about the day to night vibe, I love throwing on my Vobyos with a pair of baggy joggers, a crop top and a big sweater. I will come take a class, and then have a drink at our bar, and from there I'm ready to hit the town without even having to change my streetwear. How cool is that!"
"My goal for this year is to open at least one new GRIT studio. I would love to have another boxing fight, or do something competitive. I also want to volunteer more through the Bowery Mission and also create some sort of boxing program or charity to help young girls feel more confident within themselves."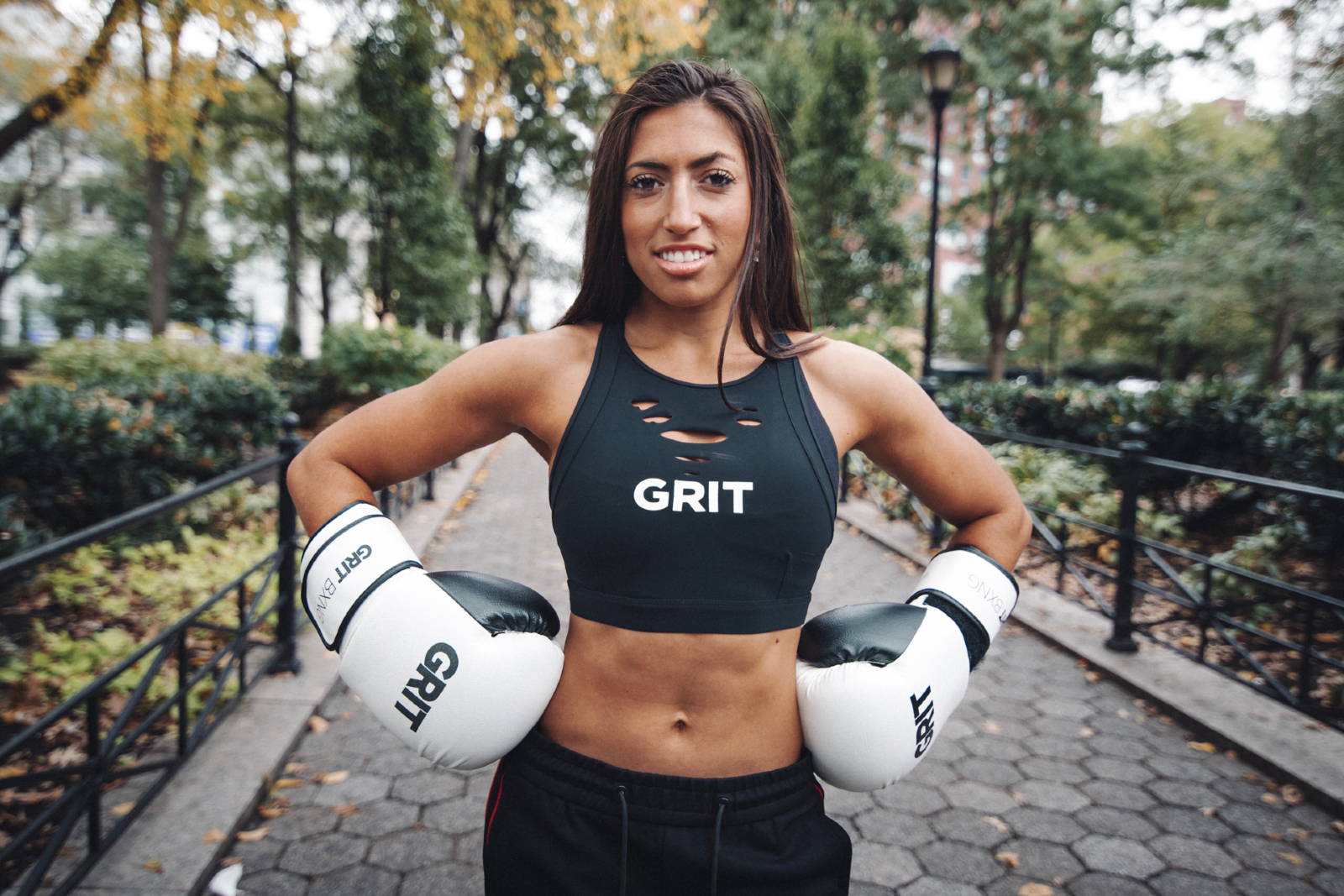 ---