In My Vobyos - Jenna Ortiz
'IN MY VOBYOS' CELEBRATES WOMEN WHO LIVE OUR MOTTO, OWN YOUR FIGHT


JENNA ORTIZ

"It's a beautiful thing to see women walk with their heads high..."
"My name is Jenna, I'm from Brooklyn New York, born and raised. Grew up playing sports, the girl that was always "one of the guys". I've always been part of a team so I naturally have a mindset of wanting to apply "team effort" to anything I do. I love helping others feel like they can do anything they are passionate about. Because I truly believe we are Limitless and can accomplish so much if we give it our all. Let me be your teammate."


HOW DID YOU GET INTO COMBAT SPORTS?
"I started boxing about 6-7 years ago. I was at a moment in my life where I didn't feel strong or empowered. Just getting out of a very toxic relationship. Hopping from job to job. It was a low point and I felt a void. I knew I wanted to be in fitness some way. I worked front desk at a UFC gym and one of the coaches asked to work with me during my lunch break. I put those gloves on and the rest is history. I felt a sense of strength that I didn't know I had. I wanted to keep chasing that feeling! So I did." 
WHAT DOES KICKBOXING & BOXING MEAN TO YOU?
"When I put those wraps on it feels like I'm putting on my armor. I feel like wonder woman with my wraps on. I feel joy because I know I'm about to feel my best in about an hour maybe two hours. But the finished emotion is happiness and extreme self love. The same way us women feel great after getting our mani and pedi, eyebrows threaded, hair blow out etc.. Putting those wraps, gloves, hair up in a bun make me feel like all of those things." 
HOW HAVE THESE SPORTS AFFECTED YOUR LIFE BEYOND THE GYM?
"Kickboxing and boxing have not only changed my life but saved it! I have become a better person overall. It has kept me on the path to better health and having a stronger mindset. It helps with anxiety and depression episodes which I have often. But to know I have a guarenteed outlet to shift the those moments in my favor has been amazing. It has become "my person". We all have that go to friend, partner, family member that we can depend on to help turn our dark days to light. Although I do have my circle of wonderful people, I love knowing I can turn to kickboxing/boxing! It has showed me how much self care matters! Taking one hour or maybe even 30mins of my day for ME helps greatly for my mental health. With that came my confidence. My confidence has boosted! Like everyone we all have insecurities and women are usually the ones to wear our insecurities on our sleeves. Having to uphold an image according to what society shows as the "ideal woman". I'm MY ideal woman! I love who I become every time I hit those mitts or bags."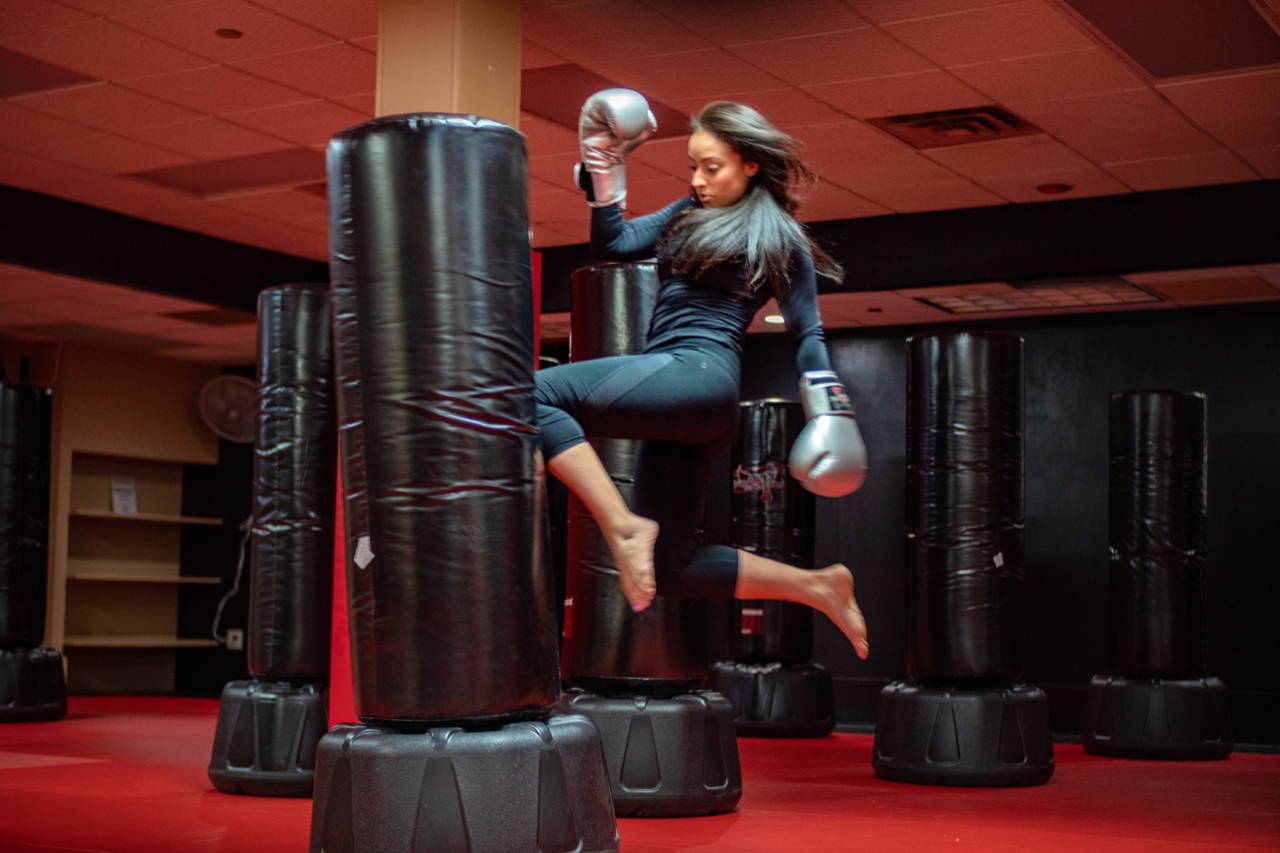 WHAT ARE YOUR THOUGHTS ON WOMEN FEELING/BEING PHYSICALLY AGGRESSIVE AND USING BOXING TO CHANNEL AGGRESSION?
"Although Boxing is obviously in the category of being physically aggressive I think in the past couple of years women have taken on the sport in the best way. Women are usually viewed to be delicate beings. And I think we still are delicate beings. But with a little bit of spice. There is beauty in knowing how to pack a punch. Knowing how to defend yourself, wake up feeling you can take on the world. I'm happy to see women taking aggression and flipping it to a positive. Taking on that interview they have been so nervous for. Proudly taking the promotion they so deserve. Quitting their job to start up their own business. Finding their center to be a better mother. I can keep going. It builds confidence. And it's a beautiful thing to see women walk with their heads high because they feel empowered every time those gloves get put on."  
WHAT IS HIT LIKE A GURL AND HOW DID IT START?
"Hit like a Gurl
is a brand created by the beautiful brain of my friend/roommate Suki. She shared this idea with me and I instantly wanted to be part of it. We are partners in this brand that started out bringing awareness to Domestic Violence. That is still the goal but we also have the goal to reinvent the meaning of the term "Like a Girl""You hit like a girl" "you do pushups like a girl" so on and so on.... it is usually meaning you do something with less effort or delicately."
WHAT ARE YOUR BIGGEST GOALS FOR HIT LIKE A GURL? 
"We want to take this brand and expand it for all females. From young girls to women. Domestic Violence is a huge topic that isn't talked about enough in my opinion. Women are often shamed or embarrassed. We want them to feel supported and understand life gets so much better once we overcome these experiences. And we can help them do that!Allowing them to be in an environment that not only gives them the health benefits of being active and learning a skill but to educate. We want to educate young girls and women to understand we are just as strong as anyone else we come across in life. Keeping the confidence to take on challenges that come their way. Knowing how to defend themselves in every way."
WHAT DOES VOBYO'S MOTTO, OWN YOUR FIGHT, MEAN TO YOU? 
"I'm so glad Vobyo has taken on the task as a brand to empower women! Women have been resilient since the beginning of time! We are extremely strong and should own that! From giving life, to being mentally strong even when we want to give in. There is no option to give up. The more we celebrate this the more women will come forward and start owning their greatness!"
HOW DO YOU STYLE YOUR VOBYOS OUTSIDE OF THE GYM?
"I have honestly talked myself out of wanting to wear my Vobyos ALL THE TIME haha! I love them! In or out of the gym I put them on. I have them on with my workout outfits and other outfits non fitness related. They are the chameleon of boxing shoes. I think my mom even wants a pair after seeing mine. I plan to own every color at some point."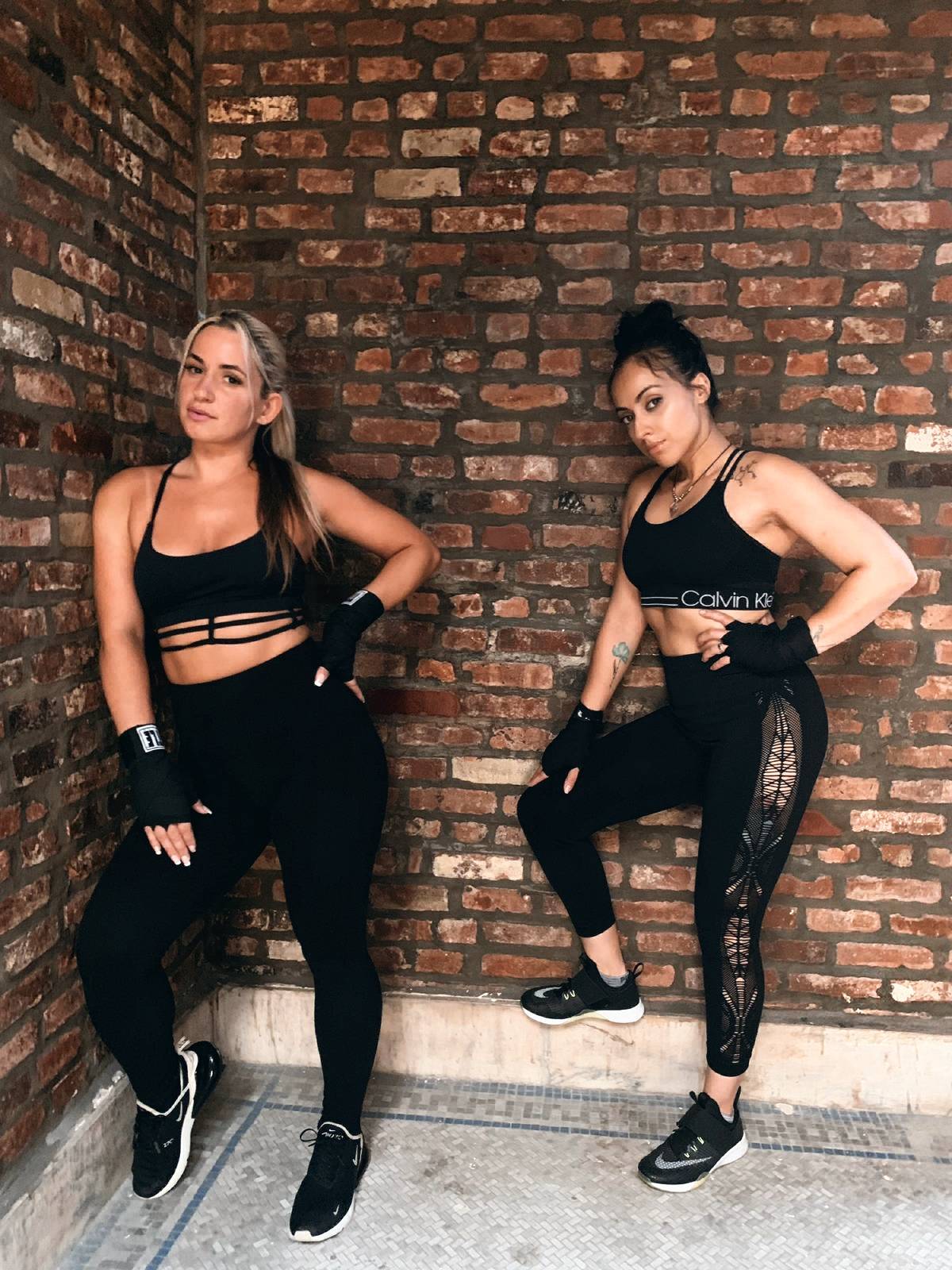 Suki & Jenna, partners in taking on Domestic Violence through Hit Like a Gurl
---