In My Vobyos - Raquel Harris
'IN MY VOBYOS' CELEBRATES WOMEN WHO LIVE OUR MOTTO, OWN YOUR FIGHT


RAQUEL HARRIS AKA ROCKY
"Write your own story. Don't let anyone else hold the pen."
---

TELL US ABOUT YOURSELF
"My name is Raquel Harris. My friends call me Rocky. I live in Manhattan and I am an amateur fighter."


YOU BEGAN AS A STUDENT OF KARATE. WHAT FIRST ATTRACTED YOU TO MARTIAL ARTS?  
"I've been attracted to Martial Arts for as long as I could remember. I grew up watching PPV Boxing, WWE, and old school Kung Fu films. I loved playing Mortal Kombat too. I wanted to train in a combat sport to be more connected to that world. When my Mother put my older brother in Boxing, I BEGGED her to join, but she put me in Karaté instead."



YOU HAVE EARNED AMATEUR NATIONAL & WORLD CHAMPIONSHIPS IN MUAY THAI & KICKBOXING, PLUS YOU HOLD A KARATE BLACK BELT, AND ARE NOW ALSO AN AMATEUR BOXER. TELL US HOW YOU CAME TO TAKE ON SO MUCH.
"When I started Karaté, I competed in about 1-2 tournaments every month and won the majority of my fights. I have dozens of trophies and medals. I switched to Boxing after my injury and I won my first bout by TKO. After that match, they told my coach I had to fight in the open division since I was transitioning from a different sport, but he didn't want me to - so to keep the momentum going I started competing in Muay Thai. This way I was able to get fair matches and get acclimated to fighting for an entire round. I fell in love with Muay Thai. It felt like the perfect mix of Boxing and Karate, except the kicks are executed differently. Now, I have more full contact experience and I am more comfortable competing in the open division for Boxing. I plan on doing that, BJJ, Judo, and Wrestling throughout 2020."



WHAT ABOUT YOUR CHARACTER MAKES YOU A GREAT FIGHTER? 
"Patience. It shows when I am fighting too. I like to pick my strikes and select every move I make just like a chess match."


HOW HAVE COMBAT SPORTS CHANGED YOUR LIFE? 
"I knew after my first competition that I found my passion, but I wasn't sure how to make it my career. However; I've been able to generate different streams of income through personal training, fitness modeling, acting, performing, stunt work, and now writing. This is all thanks to Martial Arts. I can now say that because of combat sports I am able to earn a living doing what I love."

WHAT IS IT ABOUT BOXING THAT YOU LOVE?
"I love the growth more than anything. Whether it's the humility, confidence, or character. It becomes stronger - you can see it, feel it, and share it."

YOU WROTE A SHORT FILM, NOT FOR GIRLS. CAN YOU SHARE A LITTLE ABOUT THIS? 
"It's my first screenplay about a young girl who pursues boxing against the will of her Mother. It is inspired by my childhood, except this character takes initiative. It's a beautiful story, directed and executive produced by the talented, Jonny Lee Miller. When I created this, my goal was to motivate others (especially the younger generation) to pursue their dreams. I know I was able to nail that thanks to the cast and the entire crew from Floor 1 Productions."



VOBYO'S MOTTO IS OWN YOUR FIGHT. WHAT DOES THIS MEAN TO YOU?
"It means to write your own story. Don't let anyone else hold the pen. I often meet people with entrepreneurial dreams, but they are waiting for the perfect time to start. I believe the best time to start anything is when it becomes an idea. Do what you desire, without the approval of others. A lot of times people won't see your vision, so you have to show them. That's part of the message I am putting out in my my short film, Not For Girls."
 
YOU ARE SET TO FIGHT AT THE USA NATIONAL CHAMPIONSHIPS IN LOUISIANA (DECEMBER 7-15). HOW HAS PREP BEEING GOING? HOW CAN WE SUPPORT YOU? 
"This will be my first time competing in the USA Boxing Nationals and I want to beat the odds, so I've been training with bad intentions. Camp has been very satisfying. My Coach, Marcos Suarez and I have a good rhythm going. I feel like I've been thinking less and letting go more in the gym. That's how I know I'm ready!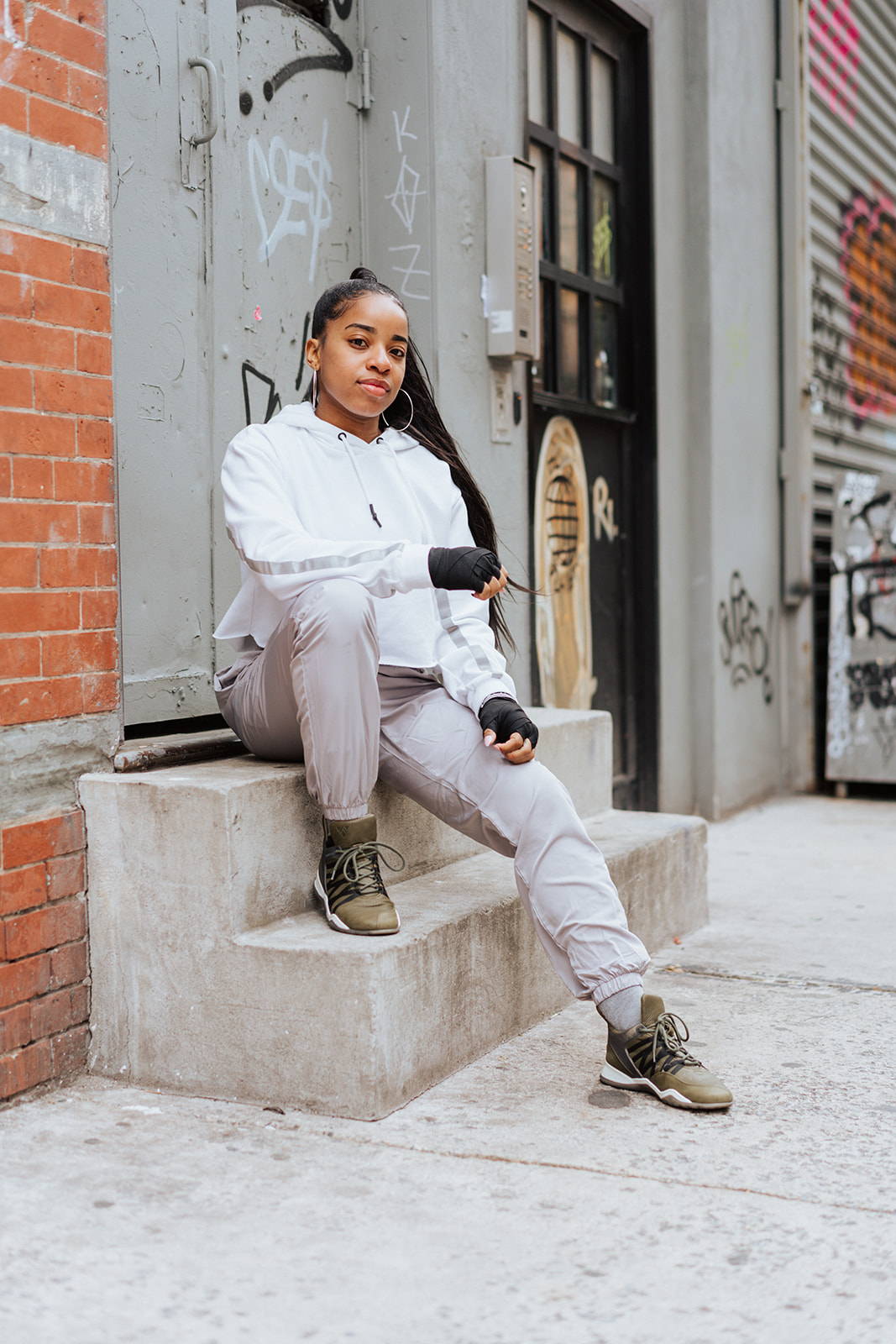 ---