Church Street Gym in Review
FOLLOW boxING ENTHUSIAST, Julia Lisi, AS SHE tours & REVIEWS THE BOXING GYMS OF New York WEARING HER VOBYOS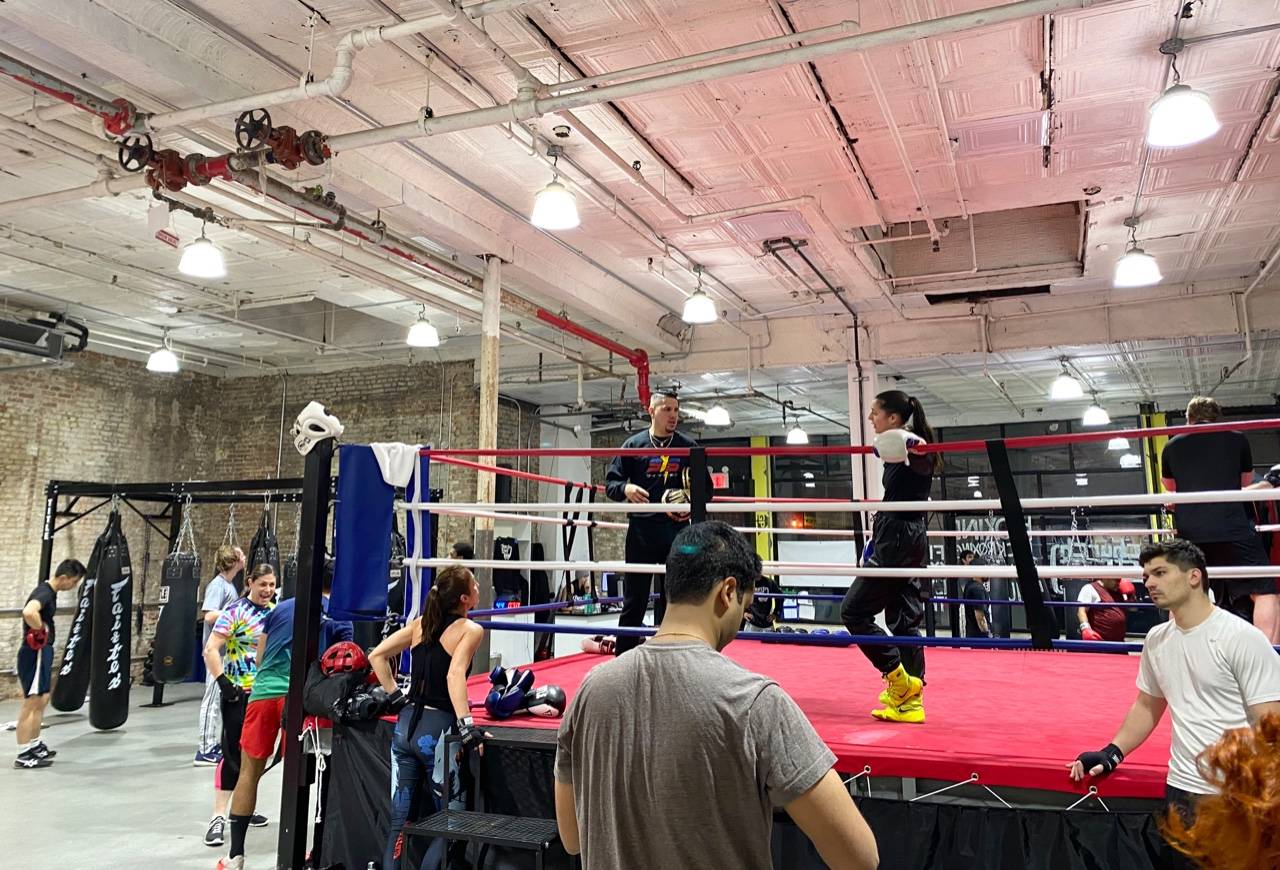 Pictured: Church Street Boxing Gym.
REVIEW #7: CHURCH STREET BOXING GYM
Stop number 7 on the NYC Boxing Gym Tour is Church Street Boxing Gym, established in 1997. I visited their Chelsea location, one of their three gyms in New York City. An authentic-feeling boxing gym with the motto "Fighting Solves Everything," Church Street offers boxing, Muay Thai, and boot camp classes and training.

The Workout

I took an all levels boxing class for this tour. Church Street blends fitness and boxing to create an intense 60-minute workout. With a warmup of pushups, jump squats, mountain climbers, and jumping jacks, a section of shadowboxing combinations, and heavy bag work, Church Street's workout is legit, stimulating and, quite frankly, painful.

More Than a Workout
Church Street offers more than just boxing with Muay Thai and boot camp classes on their schedule. This draws many kinds of fighters to the gym, resulting in an interestingly diverse community of members. I was taking a boxing class next to a Muay Thai class which created an exciting and different atmosphere than gyms that are strictly boxing or boxing-inspired fitness oriented.

"I was taking a boxing class next to a Muay Thai class which created an exciting and different atmosphere."
Let's take a look at our usual criteria to evaluate Church Street Boxing Club…

How welcoming the gym is to newcomers
The gym was welcoming enough, and the staff and trainers were friendly. I didn't feel like there was a strong sense of community among the members, but it seems like the trainers have a nice community amongst themselves.
Level of focus placed on proper boxing form & technique
There was no focus placed on proper boxing form and technique in the class I took. However, maybe I should say there was no intermediate to advanced focus placed on form and technique, because I did notice the trainer closely helping those with little to no boxing experience. It seemed like there were many people at the very beginner level in class and, as unsure as I feel saying this, I think I was one of the more experienced boxers in the class. I didn't learn anything new in the way of boxing form or technique and felt alone on the bags most of the time. Church Street does offer intermediate and advanced boxing classes, which might be a different experience in this category, and I would be interested to compare those classes to the all levels class I took.

"It was one of those workouts that makes you question why you have voluntarily chosen to inflict this kind of pain on yourself."
Quality of the total workout
This is a fantastic workout. The class feels a lot longer than an hour because so many different exercises are packed in (and also because you start profusely sweating in the first 5 minutes). The warmup itself is quite challenging and lasts for what feels like an eternity. After shadowboxing, which follows the warmup, the class then disperses to the heavy bags to practice different combinations that are only interrupted by the occasional order to drop down and do 20 pushups. At the end of class, we were challenged to throw 25, 50, 75, and finally 100 punches on the heavy bag and then finished with more pushups. It was one of those workouts that makes you question why you have voluntarily chosen to inflict this kind of pain on yourself and honestly, those are some of the best workouts, challenging you mentally as well as physically.
Size of class
The class was about 20-30 people and was a great size in my opinion. You don't get lost in the crowd, but there are enough people around to hide behind during burpees.
Fun/good vibes in class
The class was pretty chill, and I didn't necessarily feel any fun vibes worth mentioning. I wanted more from the trainer because he seemed supportive and like a nice guy, but I just didn't really feel that externally motivated in this class. The main motivation came from the fact that the gym is one open space with no separate rooms for class, so everyone can see what you are doing.
Since I have unofficially added music as a category to these reviews: the entire class was set to the album Meet the Woo II by Pop Smoke (RIP). Now, you might be thinking, that album is only 35 minutes long, but you said the class was 60 minutes. Yep, that would be correct! I heard "Foreigner" not one, not two, but THREE different times during the span of class. I love Pop Smoke, but I just feel like the aux should have been taken away from whoever put a single album on repeat for an entire boxing class.
"The environment feels really intense at first as it is very authentic and raw...
I dIDN'T LOVE DOING PUSHUPS AND JUMPING ON CONCRETE, BUT IT IS WHAT IT IS.
"
Supportiveness of the coach(es)
Class was led by Sydney Maccow. I immediately liked his demeanor and he was really supportive to those in class who looked like they have very little boxing experience. He didn't call them out, but specifically went over to work with them on the bags and make sure they used correct form.
Cleanliness/environment
The environment feels really intense at first as it is very authentic and raw. The floor is straight concrete, and the ring is right out in the open in the center of the room. However, it is thankfully not as intimidating as it initially feels. The gym seems clean enough. I didn't love doing pushups and jumping on concrete, but it is what it is.
Pricing/value for money
Church Street Boxing Gym offers a general membership for $119/month which only includes use of the gym with no classes, an all access membership for $149/month which includes classes and use of the gym, and a 10 pack of day passes for $219/month which can be used to take classes or to use the gym. They are running a great intro offer of 3 all levels boxing classes for $30 which is only $10 a class and offers a great way to try out the gym with no commitment or major damage to your bank account.

Likelihood I would return and recommend to a friend
I would definitely like to go back to this gym, but I am not eager to do so in the near future and don't know how likely I am to recommend the class to a friend.
Final Score: 3.5/5
Let us know in the comments! And in case you missed them, be sure to check the initial intro post from Julia, and her previous posts (click on a location in the map below and follow the link to its review).
GYMS! COACHES! We invite boxing gyms in New York City that would like to be reviewed as a part of Julia's NYC Boxing Gym Tour with Vobyo, or any coach that would like their gym reviewed, to reach out via direct message on Instagram to Julia at @juliaaa_ml, or via email to Vobyo at info@vobyo.com.

---