FOLLOW boxING ENTHUSIAST, Julia Lisi, AS SHE tours & REVIEWS THE BOXING GYMS OF New York WEARING HER VOBYOS
The first stop on my NYC boxing gym tour is none other than GRIT BXNG in Union Square. This boxing gym, founded by Bill Zanker, his daughter Ediva, and son Dylan, only opened in August of 2019. Unlike the other boxing gyms I will be visiting over the next few months, I have previously been to GRIT BXNG and held a membership from the first week it opened.

The Workout

In 50 minutes and 9 rounds, the GRIT group fitness workout hits your full-body, leaving you sore and drenched in sweat. There are three stations – the bags, the floor, and the treadmills between which you will rotate.

More Than a Workout
GRIT emphasizes community, and prides itself in being welcoming and fun. Frequently using the motto "work hard, play hard," GRIT BXNG is the only gym in New York City to have a full liquor bar inside the studio. As you walk out of an evening class, be prepared to be offered a margarita shot with electrolytes.

"As you walk out of an evening class, be prepared to be offered a margarita shot with electrolytes."
Let's take a look at the criteria shared in the first blog post and see how GRIT BXNG measures up...

How welcoming the gym is to newcomers
This gym makes an obvious effort to welcome newcomers. The co-founders are usually there talking and getting to know their clients which is really unique. I walked out of the studio feeling like I hadn't only found a killer workout, but a community as well. One point of contention, however, is that the gym is often filled with models and influencers, and the trainers are all somehow gorgeous genetic lottery winners, which makes it a bit intimidating to walk into the gym for a workout. If you are able to look past this, or just have undefeatable self-esteem, it is quite a friendly place.

Level of focus placed on proper boxing form & technique
This is the one area where GRIT falls short. Upon starting the workout, the trainer provides a brief five-minute overview of the six punches but, other than that, there is little to no emphasis or training on proper boxing form and technique. The trainers throw in a few helpful pointers and reminders throughout the class, but because there are over 50 people in the room, all at different stations, there is no opportunity for individual, or more focused, attention to technique. Having tried a class by every trainer, I would say that the best class to take for boxing form and technique is Alex Diana's, who boxes outside of his job at GRIT.
"Many of the gym's clients have begun using the phrase, "body by Grit, and I honestly feel that 100%"
Quality of the total workout

In my opinion, this is the gym's strongest area, and why I keep coming back. The workout is incredible, and the results are REAL and fast. Many of the gym's clients have begun using the phrase, "body by GRIT," and I honestly feel that 100%. There is also space to customize the workout for yourself, which is not always the case at other gyms. You always have the option to add more weight or speed to your workout, and the gym has even recently introduced the "Grit70" workout which is a longer and more challenging version of their standard 50-minute class.
Size of class
The class is quite large, with over 50 people in the room, but it truly doesn't feel crowded. The only downside to the large class size, is the inability to receive individual attention. On the other hand, though, there are more people to share looks of pain with as you do your one hundredth squat.
Fun/good vibes in class
The studio boasts a one-million-dollar sound and light system with playlists curated by Pitbull. People are actually smiling throughout the workout (I know, right?). Enough said.
"I took Dan Castillo's class which is pretty much the same thing as someone giving you an amazing hug."
Supportiveness of the coach(es)
GRIT excels in this area as well. You will never feel judged by the trainers who genuinely want to see you hit your fitness goals. After class they hang out at the bar and answer any questions you might have about the workout. For this stop on the tour, I took Dan Castillo's class which is pretty much the same thing as someone giving you an amazing hug. If you are killing your workout, Dan notices and compliments you in front of everyone, making you feel like a superstar athlete.

Cleanliness/environment

The gym is extremely clean and very brand-new looking. There are also a lot of opportunities to get that pic for Instagram with wall art painted by #kelseymontagueart. Top score in this category.
Price/value
The classes are priced individually at $36 with many different package and membership options. GRIT is pricey but is in line with many of New York City's group fitness gyms. While it is not the most sustainable option (especially for those of us on nonprofit salaries), the class value and experience do match up to the price.
Likelihood I would return and recommend to a friend
I have been going to this gym for the nearly five months it has been open and have brought almost fifteen different people to try the class, so GRIT scores very high in this category as well. It is much more fun to go with friends and hang out at the bar after class.
Final Score: 4/5

GYMS! COACHES! We invite boxing gyms in New York City that would like to be reviewed as a part of Julia's NYC Boxing Gym Tour with Vobyo, or any coach that would like their gym reviewed, to reach out via direct message on Instagram to Julia at @juliaaa_ml, or via email to Vobyo at info@vobyo.com.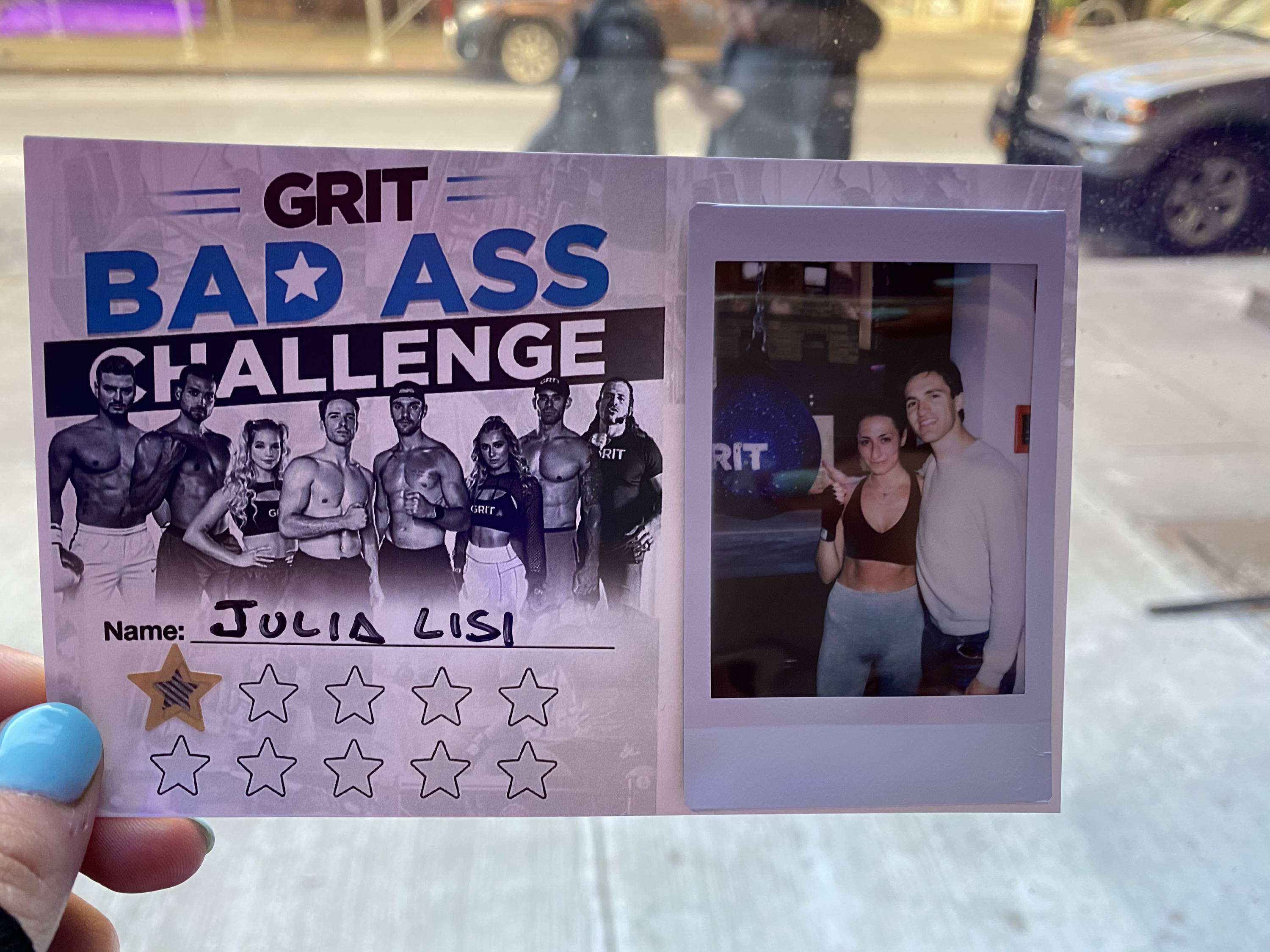 ---
---