FOLLOW boxING ENTHUSIAST, Julia Lisi, AS SHE tours & REVIEWS THE BOXING GYMS OF New York WEARING HER VOBYOS
Stop 8 on the NYC Boxing Gym Tour is JukeBox Boxing Club in Park Slope, Brooklyn. Before we get into the details, let's just take a moment to celebrate that this is the FIRST female-owned boxing club in Brooklyn. Founded just last February 2019 by former celebrity and fashion photographer Carrie Schechter, JukeBox has made a name for itself as a boxing and training facility for those eager to improve boxing technique and level up in their workouts.

The Workout

I took the group boxing class for this tour. This 45-minute class includes a shadowboxing warm up, partner boxing drills, brief mitt work, heavy bag work, and body weight exercises. Emphasis is placed on practicing correct form and technique, and developing the skills that will not only make you a better boxer, but will prepare you for real-world self-defense situations. In addition to the group boxing classes, JukeBox offers kickboxing, HIIT boxing, and "heavy bags + 360 circuit" classes.

More Than a Workout
Everything about this gym is more than the workout. To start, Carrie has a group of boxers training to fight out of JukeBox and under her careful and dedicated coaching. In addition, during warm weather seasons, the gym offers group outdoor workouts in Prospect Park. To top it off, JukeBox has a "School of Hard Knocks" specifically for youth aged 12-17. There is truly so much more going on at this gym than simple boxing classes.

You know the deal, let's take a look at our criteria and evaluate JukeBox…

"ONCE YOU COME TO THIS GYM, YOU ARE CONNECTED TO IT FOR LIFE."
How welcoming the gym is to newcomers

This is one of the most welcoming gyms I have been to thus far. The sense of community is astounding, and you can tell that once you come to this gym, you are connected to it for life. I love when the owner of a gym is present and engaged with their clients, and Carrie embodies this 100%. She clearly knows everyone in the gym, and if she doesn't, she makes an obvious and concerted effort to get to know them which adds a very authentic and genuine feeling to the gym.

Level of focus placed on proper boxing form & technique
When I first heard about this gym and added it to the tour list, I was skeptical. I figured it was a typical boutique boxing-inspired studio for Park Slope's precious grass-fed beef connoisseurs (clearly still have PTSD from my high school days in this neighborhood). However, this could not be further from the truth. This boxing gym is legit, and you will absolutely walk out the door having learned at least one way to improve your form and technique.
The class begins with a review of the basic punches, but this goes beyond simple demonstration. Carrie both demonstrated and explained each punch, walking around the room to make sure everyone understood her instruction. I also love that mitt work is incorporated, and the class is small enough that the trainer is able to provide dedicated and individual attention to each member. She meets each person where they are in their boxing experience, which is a skill not all trainers have.
The only part of the class that I wasn't completely enthusiastic about was the amount of partner drills we did. Because those in the class aren't trained coaches, practicing combinations together is often challenging, and more time is spent trying to figure out how to hold your gloves for your partner to hit them than it is boxing. When classes incorporate this, I often find myself struggling to box properly and get in enough quality practice.
Overall, I learned a lot about proper boxing form and technique in this class and definitely felt like I had improved by the time I left. I know this because I was so eager to practice what I had learned in the class, that walking home from the subway afterwards I was practicing (and if you saw a lunatic walking down the street on March 11th, that was just me being excited about boxing).

"if you saw a lunatic walking down the street [PRACTICING]... that was just me being excited about boxing."
Quality of the total workout

This is a good workout, combining both boxing and strength exercises. I was not wiped out as I have been in some of the other boxing classes I have tried, and it could have been a bit more challenging, but it was not easy by any means.

Size of class
The class was completely full, but was small (about 15-20 people). The size was completely manageable.

Fun/good vibes in class
This is one of the most fun boxing classes I have ever taken. Carrie is actually a one-woman show in and of herself. I swear I was laughing the entire class (ab workout?). When the class was over, I had to ask if that was the whole 45 minutes as it felt like only 10. There are literally zero boring moments in this class which is saying a lot, because the rate at which I get bored is honestly concerning.
"I swear I was laughing the entire class (ab workout?)."
Supportiveness of the coach(es)
My favorite boxing coaches are those that are serious about correcting your form with a no-nonsense approach, but are quick to notice and congratulate you when you have internalized and implemented the correction. Carrie has mastered the balance of strict instruction and empowering praise. I knew that if she was hyping me up about my left hook, that meant I was absolutely doing it correctly, because she had told me all the ways in which it was wrong just 5 minutes prior. Carrie clearly knows how to box and is skilled at transferring that knowledge in a relatable way to her clients.

Cleanliness/environment

This gym is extremely clean (#covid-19). The gym is decorated with pop culture and boxing history images which makes for a very cool environment. The gym looks very small when you walk in, but there is an entire basement with more bags, ropes, etc.

Price/value
Your first class at this gym is free (!) and a donation class is offered once a month to support various local charities. After that, if you would like to become a member of the gym (which you probably will) you can take advantage of their current promo offer of $75 for 4 weeks of unlimited classes, carrying over into a monthly membership at $162/month for 12 classes. An unlimited membership is $206/month, a single class is $30, and the drop-in gym use rate is $35. This is all very pricey, but in line with other studios in New York City; if you can afford these prices, I would choose to spend the money at this gym as you actually learn proper form and technique while getting a good workout. Private training is also offered.

Likelihood I would return and recommend to a friend
I am already eager to get back to this gym (you know I mean this because I live an hour and a half away from it). I will absolutely be back and recommend it to friends.

Final Score: 4/5
Let us know in the comments! And to catch up on previous posts, you can click the gym locations in the map below to find a link to their respective reviews.
GYMS! COACHES! We invite boxing gyms in New York City that would like to be reviewed as a part of Julia's NYC Boxing Gym Tour with Vobyo, or any coach that would like their gym reviewed, to reach out via direct message on Instagram to Julia at @juliaaa_ml, or via email to Vobyo at info@vobyo.com.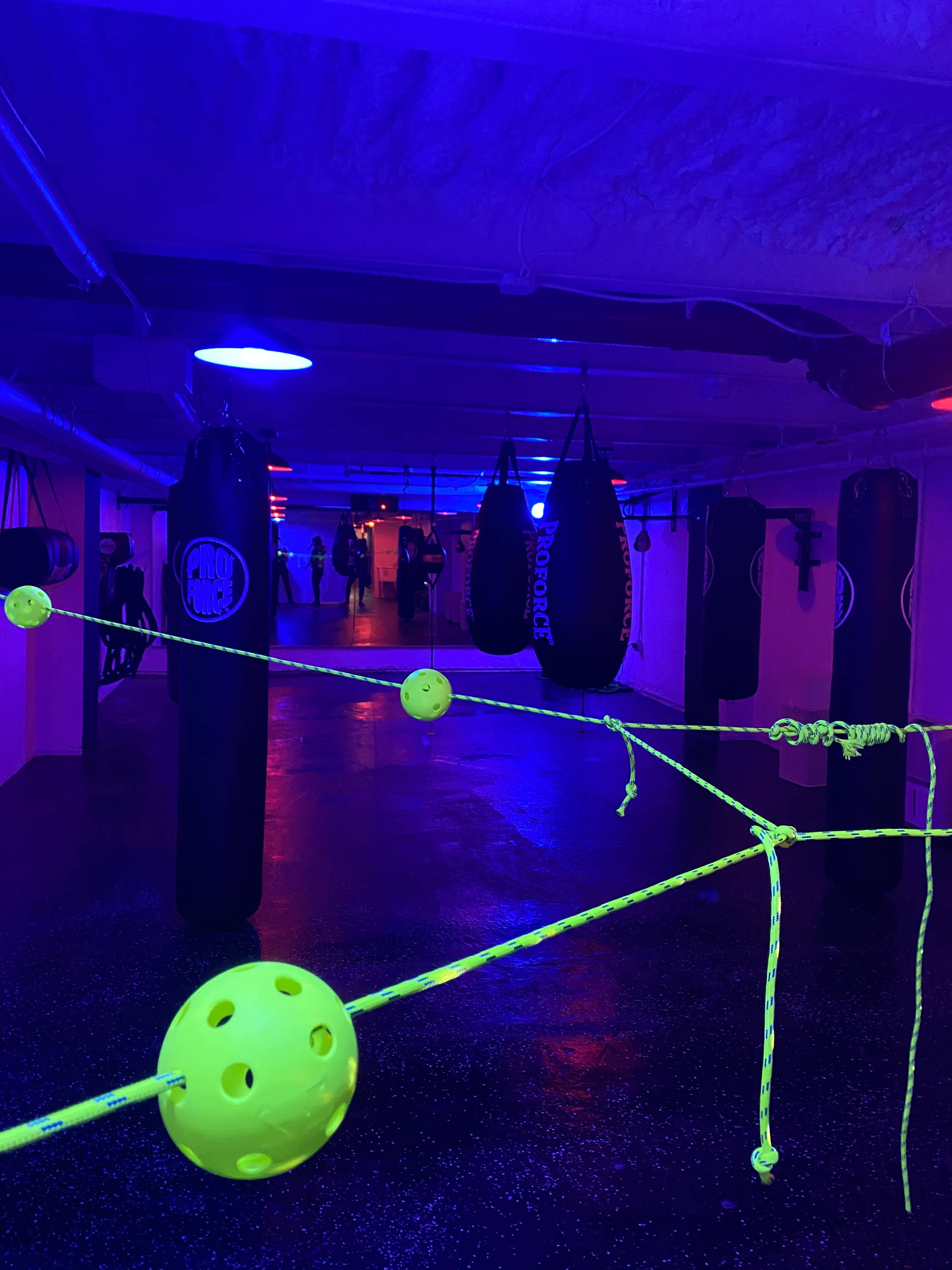 ---