FOLLOW boxING ENTHUSIAST, Julia Lisi, AS SHE tours & REVIEWS THE BOXING GYMS OF New York WEARING HER VOBYOS
This week on my NYC Boxing Gym Tour, I tried out Rumble in Chelsea/Flatiron. Rumble was founded in 2016 and is now a franchise that spans five cities, offering group boxing-inspired fitness and training classes.

The Workout

For the tour, I took a Rumble Boxing class. This is 10 rounds and 45 minutes split evenly between bags and resistance training. Water bags, dark lights, and loud music work together to create an entire MOOD for this workout. Different boxing combinations and resistance training exercises are projected on the wall as the instructor demonstrates at each station.It is worth mentioning that in addition to Rumble Boxing, the chain offers Rumble Training, which replaces the boxing station with treadmills.

More Than a Workout
Supplement your group fitness experience with private training or infrared saunas, both of which are offered by Rumble.

"Water bags, dark lights, and loud music work together to create an entire MOOD for this workout."
Time to evaluate Rumble using our criteria…

How welcoming the gym is to newcomers
The gym was fairly welcoming, and the front desk staff knew it was my first class which means they are paying attention. I did not get an overwhelming sense of community at this studio, so if that is your thing, this studio (or this particular location) might not be for you.

Level of focus placed on proper boxing form & technique
Five minutes before class starts, the instructor calls everyone into the room to demonstrate the six punches. After the class begins, the instructor will demonstrate the punches and combinations as they are projected on the wall. Other than that, there is not much focus on proper boxing form and technique. I found myself watching the guy at the bag in front of mine in an effort to pick up any tips because his form looked really good (and if that guy is reading this, my sincere apologies for watching you and also good job).
That being said, I did notice and appreciate that the boxing combinations would start off very simple and then combine to make a more complex combination. This allowed us to work on each punch instead of jumping right into a long combination with no context.

"MORE TIME IS SPENT BOXING THAN IN OTHER ROTATION-STYLE CLASSES, SO THE WORKOUT IS HARDER (IN A GOOD WAY) ON YOUR ARMS."
Quality of the total workout

I honestly didn't feel too challenged in this workout and wanted more from it. It seemed to me that if you were to take the class on a regular basis, you would plateau both in terms of mental and physical stimulation and exertion. However, more time is spent boxing than in other rotation-style classes, so the workout is harder (in a good way) on your arms and you have some more time to picture that jerk from the subway while you punch it out on the bags.

Size of class
The class was a good size, especially for 6am, and more people could have fit in the room. It did not feel crowded and the transitions between the two stations were fairly seamless.
Fun/good vibes in class
Some people naturally radiate positive energy and good vibes, and Taylor is one of those people. Her energy is what made class fun. Those in the class weren't very enthusiastic but to be fair, it was 6am and chances are good we all slept-walked into that class because there is no way a conscious human chooses to work out at 6 in the morning.
"Some people naturally radiate positive energy and good vibes, and Taylor is one of those people."

Supportiveness of the coach(es)
Taylor was very supportive and called people out when she saw that they were working hard. She is very approachable and enthusiastic and if you like the feeling of your trainer shouting "YAS GIRL!" as you walk through the door (who doesn't?) then you definitely want to take her class.

Cleanliness/environment

The studio is very clean, and I particularly liked the quality of the studio's workout equipment. I also appreciated that the class itself is down a short flight of stairs, so you have space to get your wraps on and mentally prepare for class. The studio plays good music and even throws in some old-school rap which is exciting for those of us who are tired of hearing the same three Drake songs across every gym in the city.

Price/value
Rumble is boujee and doesn't offer memberships. For first timers, they offer a buy-one-get-one free intro deal for $36. After that, individual classes are $36, but buying a pack of classes lowers the individual class price significantly. Rumble's prices are in line with other studios across the city, but I personally think it is very expensive and that a membership would make it more affordable/worth it for customers.

Likelihood I would return and recommend to a friend
I am honestly not sure that I would go out of my way to return, but I would definitely recommend the studio to a friend if he/she is considering or just starting to get into boxing and wants to see what they think of throwing punches on a bag before getting into the technique of the sport.

Final Score: 3/5
GYMS! COACHES! We invite boxing gyms in New York City that would like to be reviewed as a part of Julia's NYC Boxing Gym Tour with Vobyo, or any coach that would like their gym reviewed, to reach out via direct message on Instagram to Julia at @juliaaa_ml, or via email to Vobyo at info@vobyo.com.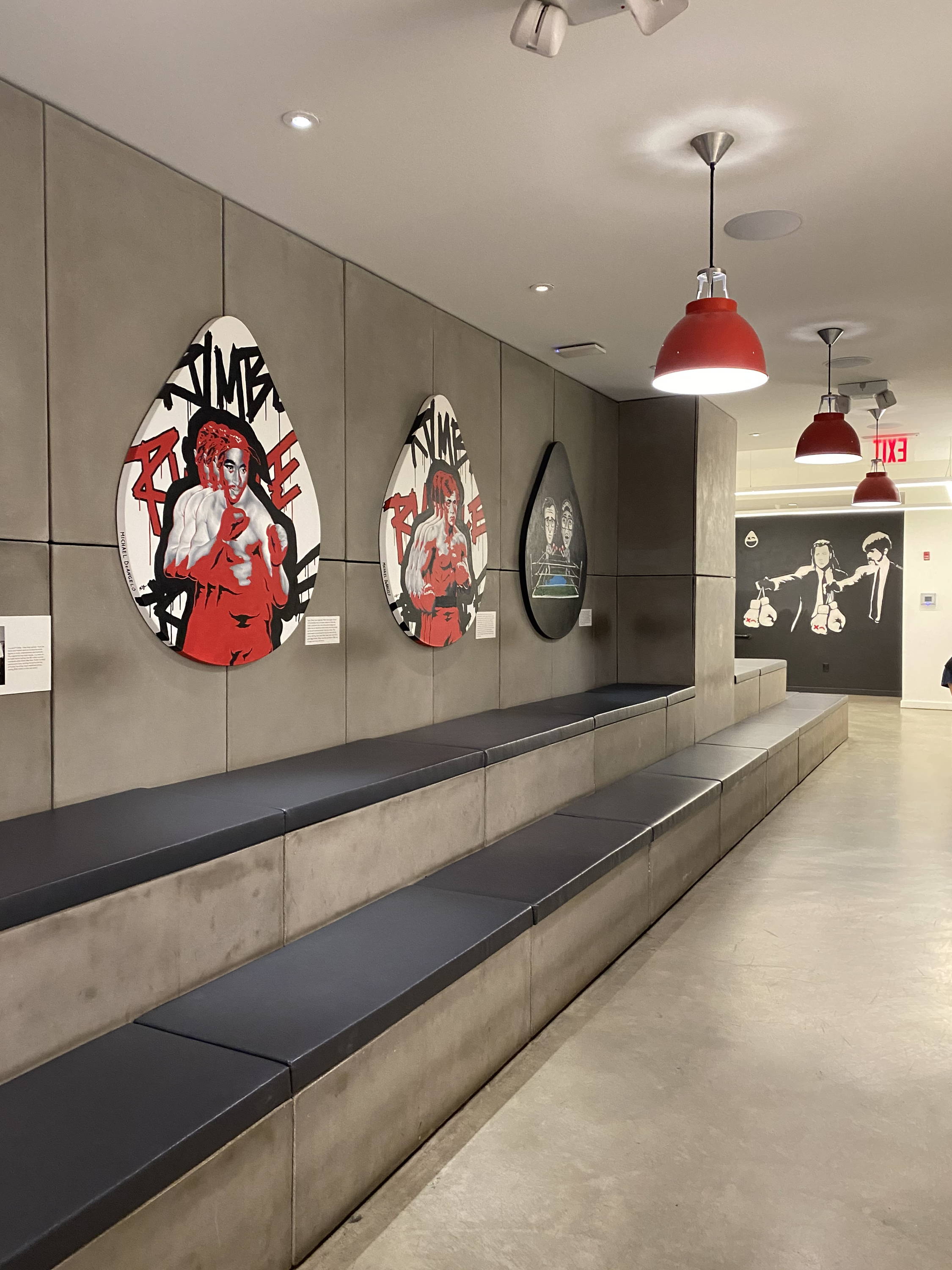 Rumble Training, Chelsea/Flatiron.
---