FOLLOW boxING ENTHUSIAST, Julia Lisi, AS SHE tours & REVIEWS THE BOXING GYMS OF New York WEARING HER VOBYOS
Two weeks ago, as part of my New York City Boxing Gym Tour, I did something a little different. I went to train at a boxing gym that does not offer group classes. To keep these reviews fair by comparing "apples to apples," I have been strictly trying out group classes at each gym. However, not all boxing gyms offer group classes. SouthBoX, located in the South Bronx, is one of those gyms. SouthBoX was founded by Eric Kelly, 4X National Amateur Boxing Champion and 2X Daily News Golden Glove Champion. When I heard about this gym, I knew I had to go check it out.
***After visiting, I feel that this authentic boxing gym definitely should be featured as part of the tour, but in order to keep it fair, I won't necessarily review it using the same criteria I have been using for the group classes across the city.***

Getting to the Gym

The journey to the gym honestly provides a whole experience in and of itself. Once I arrived, I was looking at a fence, behind which is a structure that looks like a farm in my opinion. There is a large sign on the building that simply says "BOXING." The juxtaposition of this gym with all of the glamorous, decked out boutique boxing studios in Manhattan is hilarious to me for a reason I cannot really articulate. After walking through a muddy parking lot to the back of the building in the rain at night, and convincing myself I was not about to be murdered, I arrived at a door with a piece of paper that pretty much just said "SouthBox – Gym OPEN" in messy handwriting.

The Environment
As soon as I walked into the gym, I felt excited. Talented boxers were doing some serious work on the bags that are scattered throughout the gym. This gym is authentic. No frills, and no bullsh*t. I was clearly the most beginner (see: worst) boxer in the room which was both intimidating and incredibly motivating. I also noticed there was not a single girl in the gym aside from my trainer; I don't really know what to say about that, it was just something I noticed.
The Workout
I trained with Raquel Harris (AKA Rocky), World Kickboxing Medalist and trainer with The Champion Experience. We started with a jump roping warmup and then ran some footwork drills. Rocky helped me work on my pivots by placing a cone on the floor and having me rotate around it. This is a good drill to enhance coordination and to help you get used to the motion of pivoting. For reasons I don't know or want to delve into, I had initial difficulty stepping and pivoting around this cone. Rocky was very supportive and took as much time as was needed to demonstrate and re-explain. She was also quick to notice when I picked it up and pivoted correctly.

"Next up was the speed bag... (wtf, Michael B. Jordan made this look so easy in Creed)"
Next up was the speed bag. What I was supposed to do was practice hitting the speed bag with my left and right hands, slowly. What I actually did, was hit the bag twice and then stand in front of it dumbfounded (wtf, Michael B. Jordan made this look so easy in Creed). This was my first time using a speed bag and I was glad to be introduced to something new on my boxing journey.

After the speed bag, Rocky held mitts for me and we ran through a few different combinations, incorporating the pivots I had been working on earlier in the session. She gave tips in a clear and comprehensive way and was very supportive. I never felt like she was judging me, but she still corrected me when needed. I ended the session on a few different kinds of bags, with careful instruction and coaching from Rocky.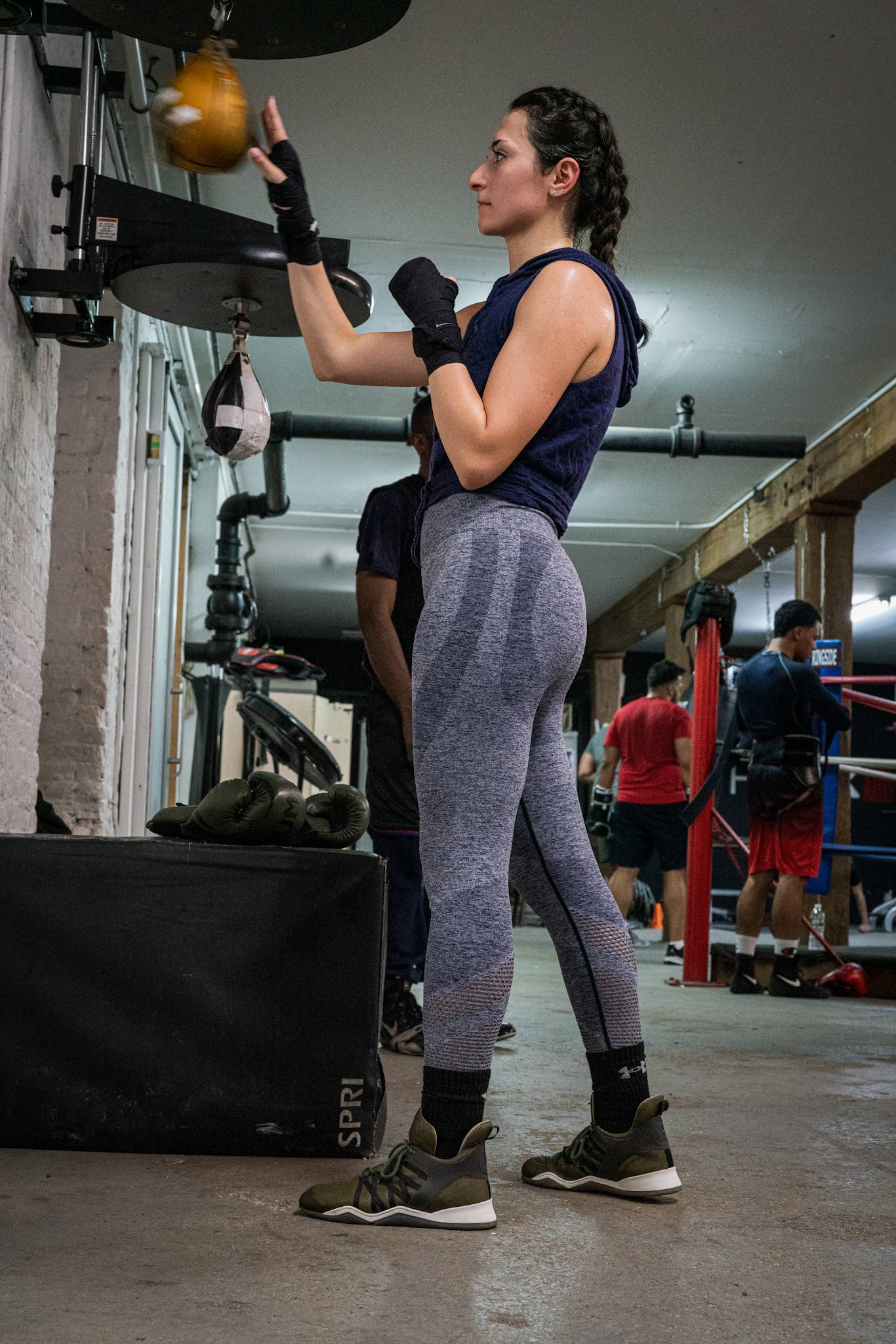 Price/value

A membership costs $60/month (or $55 if you set up automatic bill pay) which includes unlimited access to the gym. A 60-minute training session with Eric Kelly is $30 and a morning training session is $20. You can also take a session with an in-house trainer as well as independent trainers like Rocky (prices vary).
"Overall, I really loved being at SouthBox [...] because it is authentic, raw, and down-to-earth."
Summary
Overall, I really loved being at SouthBox (even though I was intimidated by the talented fighters training there) because it is authentic, raw, and down-to-earth. Rocky is a thoughtful and supportive teacher, and The Champion Experience thankfully provided one of the most technically focused boxing workouts I have experienced on the tour thus far. I came away from the session feeling stronger and with some new techniques and drills to focus on.
GYMS! COACHES! We invite boxing gyms in New York City that would like to be reviewed as a part of Julia's NYC Boxing Gym Tour with Vobyo, or any coach that would like their gym reviewed, to reach out via direct message on Instagram to Julia at @juliaaa_ml, or via email to Vobyo at info@vobyo.com.

---