FOLLOW boxING ENTHUSIAST, Julia Lisi, AS SHE tours & REVIEWS THE BOXING GYMS OF New York WEARING HER VOBYOS
REVIEW #6: TITLE BOXING CLUB
The sixth stop on my NYC Boxing Tour was Title Boxing Club. I took class at their Midtown East location, but Title is a franchise with 182 across three countries. With a mission to "be the best hour of someone's day," Title Boxing offers both boxing and kickboxing classes for all levels. This gym was founded in 2008 by Danny Campbell, a former professional fighter, and Tom Lyons, a hospitality and sporting events business owner. Title Boxing Club transparently states that their workout "focuses on fitness, not fighting."

The Workout

Title's boxing classes take shape as a HIIT workout including an explosive warm up, a series of 3-minutes rounds on the heavy bag, and an ab workout. The trainer wastes no time with introductions or really any speaking at all, and there is little time to rest in this 60-minute intense workout. You will leave class exhausted, knowing you have worked hard, and fearing the next day during which you are guaranteed to be sore.

More Than a Workout
Title Boxing is one of the most well-known boxing franchises, with its own line of boxing gear sold online and in their national headquarters at the TITLE Fight Store in Kansas City. Title offers more than boxing classes, having made a name for itself in MMA equipment design and production as well.

"Title Boxing Club transparently states that their workout 'focuses on fitness, not fighting'."
Let's take a look at our usual criteria to evaluate Title Boxing Club…

How welcoming the gym is to newcomers
The gym was pretty welcoming, but I did not feel a sense of community here whatsoever. Everyone came into class, set themselves up at a bag, and got to work.
Level of focus placed on proper boxing form & technique
When I first tried to write this section of the review, the only words that came to mind were "none lol." At the risk of becoming known as a harsh and difficult critic, I have to be honest and say that no particular focus is placed on proper boxing form and technique in this class. The trainer had amazing form and clearly knew what he was doing, but that did not magically translate into me knowing exactly what I was doing (although I do wish it worked that way). The trainer also did not use a microphone, so it was pretty much impossible to hear him explain the combinations clearly.
On the other hand, I had fun making up my own combinations since I had no idea what was going on half the time. I saw the trainer making his way around the room to hold bags for different people, so he was definitely watching what was going on. He came over to my bag at one point, but he didn't necessarily help me with form and technique because he had to spend the time actually telling me the combination since I was unable to hear him explain it in the first place.
"You know that feeling five minutes into the warmup where you're like "oops, I am going to die?"
Quality of the total workout
This was the only part of the class I was impressed by. You know that feeling five minutes into the warmup where you're like "oops, I am going to die"? Yeah, I had that feeling. Starting off right away with explosive HIIT exercises such as jump squats that immediately transitioned into a bunch of other hopping exercises, the workout proved to be intense from the beginning. There was maybe one short break between the warmup and the boxing rounds, so God forbid you actually wanted to drink some water in this class! Finishing off with abs, I was wiped out by the end of class and felt I had put in all my available effort
Size of class
Finally, a boutique studio that has enough space between the bags! The class was very large, but I had a ton of room to do my thing on the bags.
Fun/good vibes in class
I didn't have a ton of fun in this class, and it was really a shame that you could barely hear the instructor (again, a mic would have really helped). I felt confused for most of the boxing rounds and didn't feel like I was improving my boxing.
You know I have to mention the music. The class featured basically the same five songs on repeat, each by a member of Cash Money Records. I'm sorry, but is Title Boxing sponsored by them? Because that is pretty much the only way this would be acceptable. I heard more Lil Wayne in this class than I have in the past 5 years combined. Kindly diversify your playlist, Title Boxing.
"I liked [THE COACH's] energy [...] He knew what he was doing and provided the right level of encouragement during the painful ab conditioning."
Supportiveness of the coach(es)
I took class with Willie Parker and I only know his name because I looked it up later. I wish he had introduced himself or the class before jumping right into the workout. However, even though I knew nothing about him and couldn't hear him most of the time, I liked his energy for some reason. He knew what he was doing and provided the right level of encouragement during the painful ab conditioning at the end of the workout. He was also supportive and kind when he came over to hold my bag and walk me through the combination. Imagine how much better this would have been if I could actually hear him!
Cleanliness/environment
The environment is clean and there is nothing too noteworthy in this category other than that there are a pair of huge boxing gloves hanging over the entrance which is cool.
Price/value
Title Boxing is membership based with three different options: "CLUB Card" which includes unlimited classes, "CLUB 8" which offers eight workouts per month, and "CLUB 4" which, you guessed it, includes four workouts per month. A trial class is $35, but it is not clear how much the membership options cost.
Likelihood I would return and recommend to a friend
I might return just to get in a solid workout, but I do not feel desperate to go back any time soon as I typically feel after trying out an exciting new gym. I would not eagerly recommend this class to a friend either.
Final Score: 3/5
Let us know in the comments! And in case you missed them, be sure to check the initial intro post from Julia, and her previous reviews (click a location in the map below to go to each review).
GYMS! COACHES! We invite boxing gyms in New York City that would like to be reviewed as a part of Julia's NYC Boxing Gym Tour with Vobyo, or any coach that would like their gym reviewed, to reach out via direct message on Instagram to Julia at @juliaaa_ml, or via email to Vobyo at info@vobyo.com.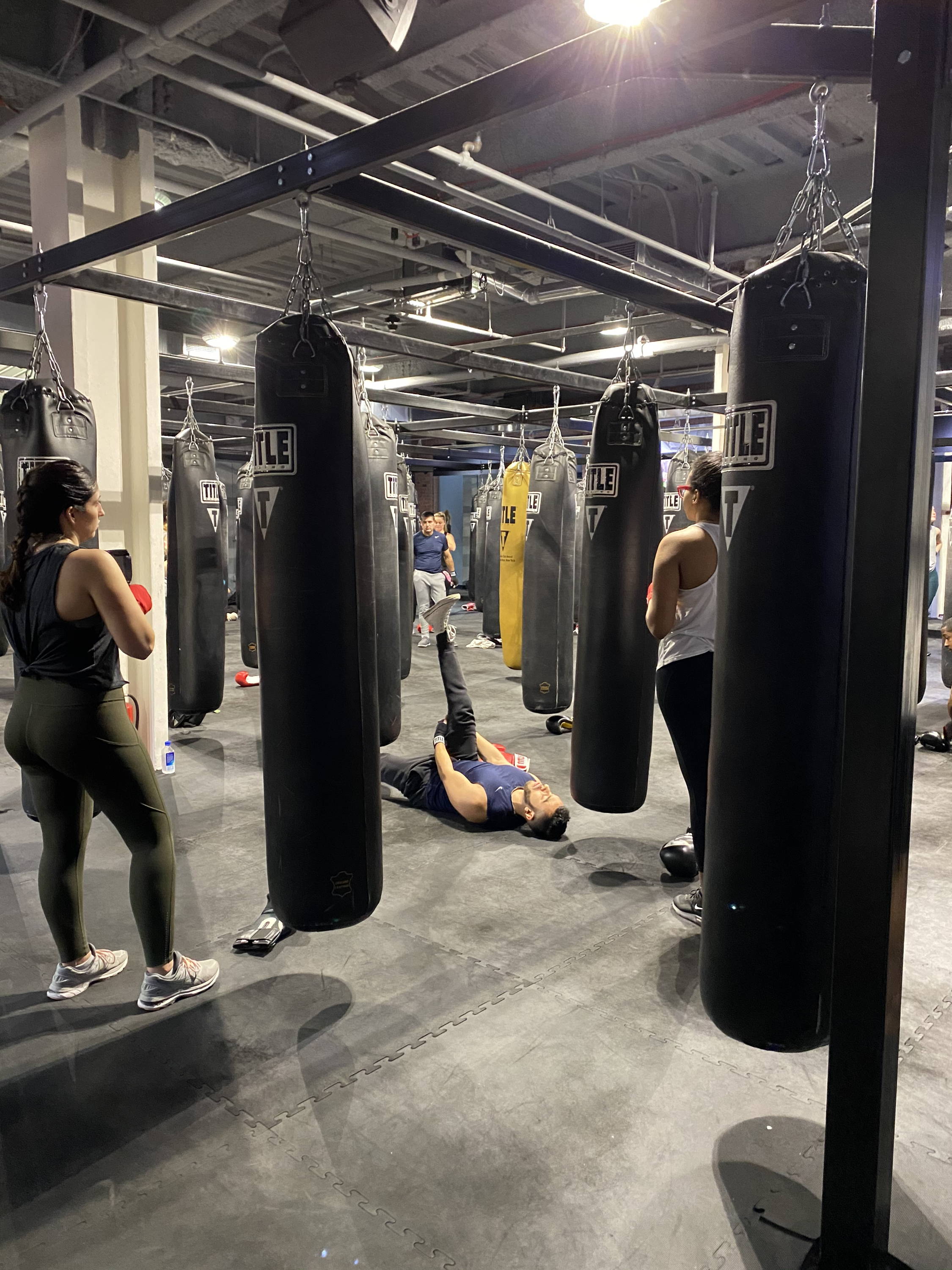 Julia Lisi visiting Title Boxing Club.
---