Work Train Fight in Review
FOLLOW boxING ENTHUSIAST, Julia Lisi, AS SHE tours & REVIEWS THE BOXING GYMS OF New York WEARING HER VOBYOS
REVIEW #2: WORK TRAIN FIGHT
For the second stop on my boxing gym tour, I visited Work Train Fight in Soho. Founded in 2009 by Alberto Ortiz, Work Train Fight (AKA WTF) offers a variety of workouts including: group all-level, intermediate, and advanced boxing classes; semi-private classes; personal training; strength work; and fight class (sparring).

The Workout

For this tour, I took a group all-level boxing class. For 55 minutes, an instructor guides you through a full boxing workout during which you are punching, lifting, and squatting out all the "as per my last email" emails you have had to write that week. The gym boasts that it is "not another boring heavy bag gym" and this proved to be absolutely true.

More Than a Workout
Because there are so many boxing gyms in New York City, I like to include a brief section on what gives each gym its heart. Work Train Fight runs a nonprofit called Youth Boxing for Change, which uses the sport to empower underserved youth through mentorship, service & social responsibility, and enrichment activities. Members of the gym can apply to become mentors for these youth, which not only transforms the teens' lives, but the lives of the mentors as well. When you support Work Train Fight, you are also supporting this program, and your community at large.

"you are punching, lifting, and squatting out all the "as per my last email" emails you have had to write that week."
You know the deal, let's take a look at our criteria and evaluate Work Train Fight…

How welcoming the gym is to newcomers
The gym felt fairly welcoming to me, but there is a lot going on right when you walk in. The trainer for my class, Amber Trejo, was specifically very welcoming and gave me a tour of the gym before class started.

Level of focus placed on proper boxing form & technique
This is the category in which the gym shines. Amber Trejo was the instructor for my class and let me tell you, she is WATCHING! During the shadowboxing warm up, Amber walked around the whole room to correct (and compliment!) our boxing form. When she came over to help me adjust my weaves, I actually smiled because I knew I had never really learned the proper form and this was the first time a group fitness instructor hadn't just said "good job!" while dancing past me to the next client.
The majority of the class was spent rotating between different stations which included bags, various weight training exercises and, most notably, mitt work. Yes, you read me correctly, mitt work in a group class. The workout featured traditional heavy bags, long heavy bags, and aqua bags which I really appreciated as it helped me to develop all of the different punches and techniques used in boxing. My only comment in this section is that I felt as though the time spent at each station was brief and I found myself wanting another minute or so to perfect each exercise or punch. However, I still left feeling like I had really learned a lot about proper boxing form and technique in just one class.
"this was the first time a group fitness instructor hadn't just said "good job!" while dancing past me"
Quality of the total workout

This was a great workout which required significant work. However, I felt like there was a bit of standing around as the exercises at the different stations were demonstrated, and that I could have been worked a little harder.Something worth emphasizing, is that this gym offers many levels of boxing classes, so there is always an opportunity to level up. Your workout at this gym can never get boring or plateau this way and there is always room for self-improvement.

Size of class
The class was full, with about 25 people in the room. It did not feel crowded at all and allowed for the trainer to break us up into smaller groups to work at the different stations. As an aside, there were actually boys (yay) in this class, unlike many other group fitness classes I have been to. So that's a plus (for me).
Fun/good vibes in class
Amber is a really fun instructor and played great music (AKA Kanye West). My classmates were kind of low energy, and I honestly didn't feel as motivated or pumped up as I do in gyms with louder music and darker lighting, but at the same time I did appreciate that the workout was focused more on honing technique rather than on having a party.
"I felt like I was truly learning technique and doing so without being criticized or judged."
Supportiveness of the coach(es)
Amber was extremely supportive and noticed both when we were performing well in our workout and when we needed correction. I felt like I was truly learning technique and doing so without being criticized or judged.

Cleanliness/environment

The gym was very clean. I was a little disoriented upon walking in, which is admittedly mostly due to my personality, but also due to the fact that you walk right out of the elevator into the gym where there are many different rooms with many different workouts taking place. This is both exciting and a little intimidating, and if you like to mentally prepare for your workout (and/or social interaction) before walking into the gym itself, this is not the ideal environment for you.

Price/value
Work Train Fight offers two membership options which include access to classes and the gym for $167/month or full gym access with no classes for $125/month, as well as separate class, semi-private, and personal training packages. In addition, the gym is currently running a BALLER intro package for new members which includes 1 personal training session, 2 semi-private sessions, and 3 boxing classes all for $97.
I think this gym is definitely worth the price, but the membership makes the most sense to me in terms of the value. An individual class at WTF is $34, and if I were to spend that much on an individual class, it would be for one that is more of an "experience." If you are looking to really improve your boxing and hone your technical skills, I would personally go for the membership and commit to your craft.

Likelihood I would return and recommend to a friend
I already have a personal training session booked and invited a friend to come with me to a semi-private the following week.

Final Score: 4.5/5
GYMS! COACHES! We invite boxing gyms in New York City that would like to be reviewed as a part of Julia's NYC Boxing Gym Tour with Vobyo, or any coach that would like their gym reviewed, to reach out via direct message on Instagram to Julia at @juliaaa_ml, or via email to Vobyo at info@vobyo.com.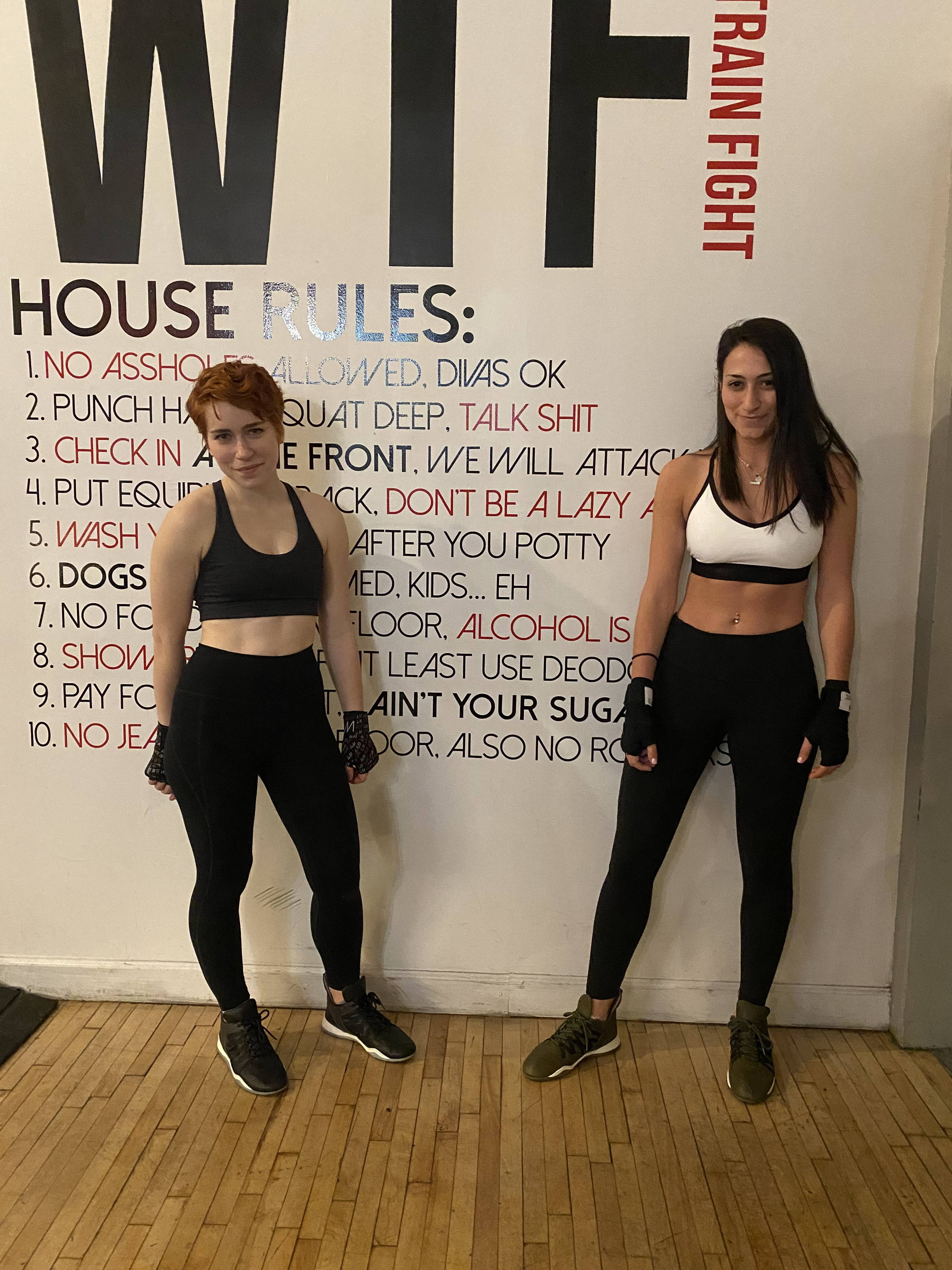 ---
---